Drop forging manufacturer

sales@dropforging.net
Home
»
Drop Forging products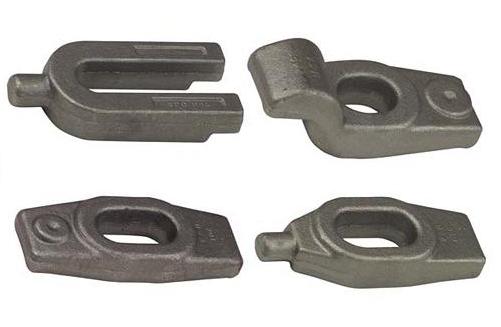 Unlike casting, forging will increase the strength of forged clamp straps, and can effectively avoid the inner defects caused by casting. That is why forging is used for producing clamp straps. Most important is that, although the tooling cost is high, it is just once paid, and will not be charged in further orders. Also in the long term, the unit cost is low for the large quantity.

In Summary, Fly Forge is your one stop source for forged clamp straps. Our company can supply forging, machining, heat treatment and surface finish services. Pls contact us if you have a project
for forged clamp straps or other related forgings ( for example, drop forged C clamps), we will provide best quality with competitive prices!
Over 15 years in exporting closed die drop forgings to overseas companies, we forge the grinder wear parts to our customers' specifications in best wear resistant material. Our in house machining capability can fulfill the machining requirement for your assembling. Take tub grinder teeth for example, forging can not realise all the sizes required, the inner holes has to be machined after forging, so that it can be assembled to the machine by bolt. So it is also called bolt on grinder teeth. To ensure correct application, we will customize a jig for testing.

By offering high quality grinder wear parts in low price, Fly Forge is a one stop forging company for such forged grinder wear parts from new tooling to forging, machining & heat treatment. Contact us for your custom grinder wear parts to suit your wood waste tub or Horizontal grinder.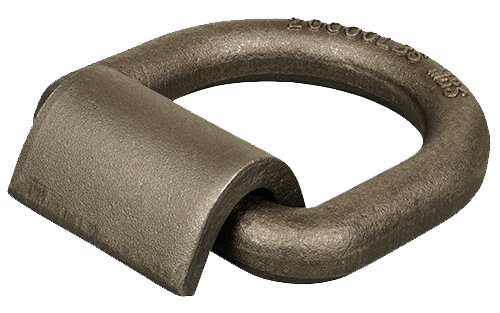 This particular drop forged D-ring is designed to be welded onto a metal frame to add a solid anchoring point for cargo straps, ropes, cables or chains. It features forged steel construction and a capacity of 46,760 lbs., making it strong enough for many commercial and industrial applications. The heavy-duty D-ring and bracket feature a raw finish to be readily welded on, and the ring offers a large opening to accept clevis hooks. Ideally, a D-ring swings freely after it has been secured. D-rings may vary in composition, geometry, weight, finish and load (rated) capacity.
Fly Forge is a top closed die drop forging company in China, we can customize all kinds of welded on D-rings with the drawing specification. Besides weld on D-ring, we can also provide bolt on
D-ring with our advanced forging process. We aim to provide our customers high quality products with reasonable price. Our high quality is guaranteed by using good quality raw material,
advanced forging process and district quality control. All these will help us to deliver qualified products to our customers. So if you are looking for welded on D-ring, or other forged products, pls
contact us, we will try our best to offer you our good price first.
In terms of temperature, there are different types of forging: hot forging, warm forging and cold forging. Hot forging is the most popular forging process among these forging types. All the forging technique used in Fly Forge is hot forging, so this article we will introduce hot forging in detail.

Hot forging, also called drop forging, is a process to produce a wide variety of most metal parts. Hot forging process is developed since the last century, but with the development of equipment, lubricants, and forging ability, modern hot forging process is able to make more complex shapes with more materials since that time. The basic procedure for hot forging is relatively simple. Metal bar or billet is first heated into the hot working temperature range to improve ductility. Then the material is squeezed or hammered in a series of tool steel dies to deform the billet into the finished shape. Flash casused by excess material after forging is exsited, so the final step is to remove the flash to yield the finished forged part. Hot forging is a near net shape process, but some forgings may require some subsequent machining, in particular for surfaces that may affect the final assembly of a product.


Main feature of open die forging is that the production equipment is relatively simple, so the cost is low. Compared with the casting blank, open die forging eliminates the defects such as shrinkage, gas holes, porosity, ect. So products after open die forging have higher mechanical properties. As open die forging shape is simple and the operation is flexible, therefore, it always act as important parts in heavy machinery equipments.

Heavy Duty Grab Hooks are used to be welded on to equipment buckets, trailers, or other surface that needs a fixed hook. Such weldable grab hooks are mainly designed in different dimensions for different weight bearing requirement. Larger hooks can bear more, just see what the application will be.

According to the application of weldable grab hooks, they need to be forged for safety consideration. It may be easy to produce inside defects by casting, which is a great risk when working. So, there is no doubt that grab hooks should be made in forging.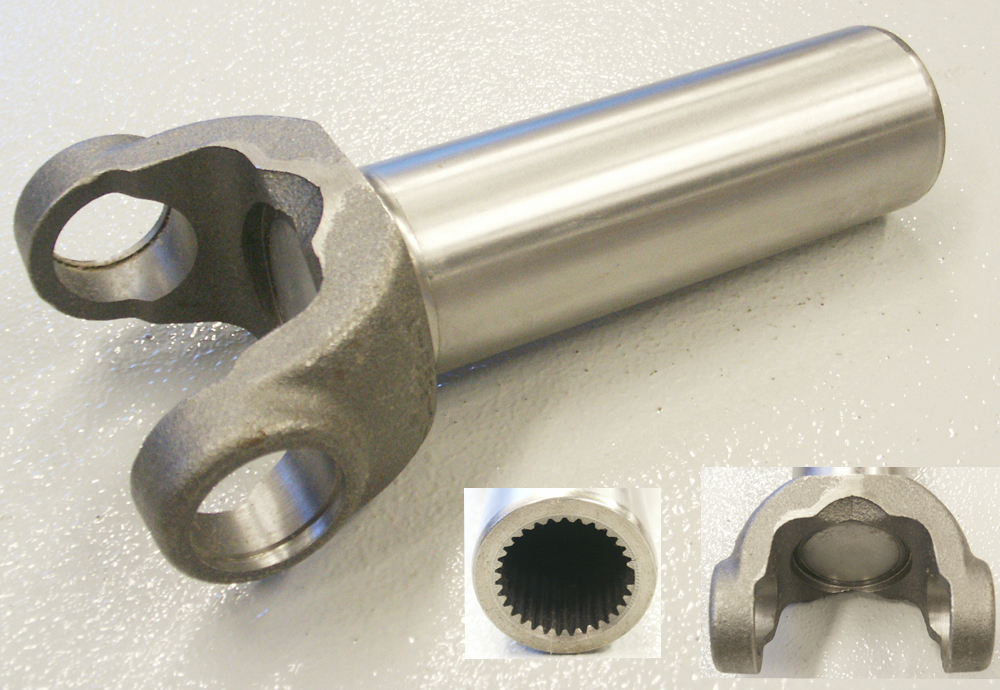 For its special usage, there is a high requirement on the strength of silp yokes and no defects are allowed. So slip yoke is usually designed by drop forging process, other than investment casting. The first step to start silp yoke manufacturing is its forging dies, like other drop forged products, normally the tooling cost of slip yoke is much more expensive than cast ones. But it is affordable in our company and we will be in charge of the follow-up maintenance work, it is just one-time cost. As an OEM drop forging company, we can customize all kinds of forged slip yokes according to your specifications.
Forging is not the stop, precision machining is another manufacturing point for slip yokes. Our advanced machining equipments can offer you most precision machined slip yokes. So we are experts in manufacturing and exporting slip yokes to overseas customers, just pls feel free to contact us if you are interested.
The past few years have seen a shift towards the use of forged steel,in particular for valves used in critical and severe service applications,such as oil industry,chemical industry,power industry,energe industry,ect.All forging processes start with a solid piece of metal or ingot that is forged into shape with hammers or presses.

Issued with API certification,Fly Forge is reputed manufacturers and exporters of forged steel blanks for high pressure valves products(gate valve,globe valve,check valve,ball valve,ect) in Ningbo,China.We are manufacturing forged steel valve components from high grade raw materials,such as A105,SS304,SS316,ect. We are manufacturing high quality forged steel valve components in different size,shapes,design and also manufacturing as per customer's design.And all valves are well tested using latest valves technologies.We exporters over forged steel valves products to countries all over the world.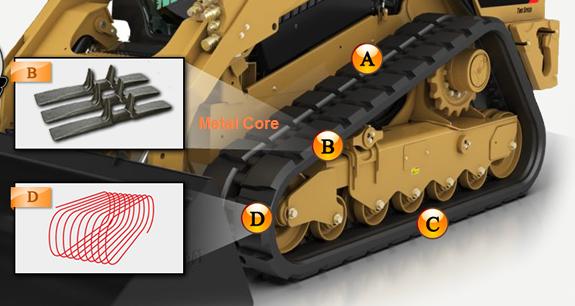 Rubber track is a conveying system widely used in construction machinery equipments(such as excavator,CTL/MTL and drill machine) and agricultural machinery(combine harvester,small
dumper/carrier,tractor).The Metal core attaches itself to the sprocket and prevents the rubber track from slipping off the wheel.And the metal core is firmly bonded to the rubber by a special
adhesive treatment.Below is a picture showing the usage of metal cores for your better understanding:
Due to the advantages of drop forging,such rubber track metal core will be drop forged to achieve high strength,and then heat treated to meet enough hardness,which will reduce vibration when
rubber track works.Main material used for forged rubber track metal core is 1045 seel and 40Cr,we can also make metal cores in other material specification according to our customers'
requirements.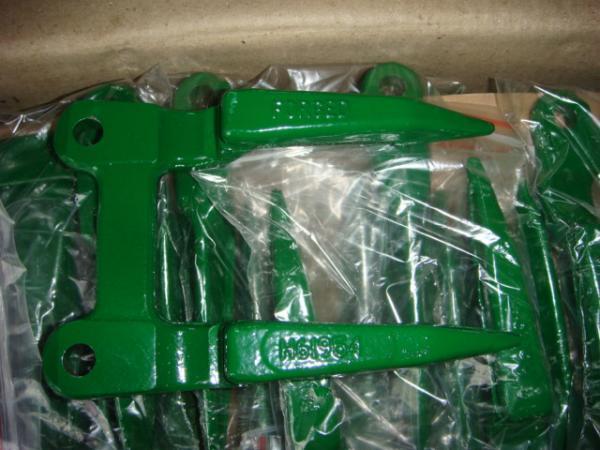 Combine harvester is one of the main agricultural machinery equipments that used for harvesting grain crops,such as oats,rye,wheat,ect.Knife guard/finger is designed for increasing cutting capacity and harvesting speed.Our combine harvester knife finger/ guard are assembled to John Deere, New Holland, Claas, Ford and so on.
For its special working condition,wear resistance is the most important factor of forged harvester knife guards.So materials with good wear-reisistance like ASTM 1045 steel or AISI4140 are applied for such products.In addition,we could also improve the wear-resistance of combine harvester kinfe guard/finger by add the hardness after heat treatment.Normally hardness of such products wil be controlled between 50-60HRC.But it does mean the higher the hardness,the better working performance the knife guard/finger will be.Too high hardness will cause products in fragile and easy broken status when woking.
Precision forging is worked in a close to final shape or close-tolerance forging way.It is a refinement forging techniques compare to traditional closed die forging technology.When you need a product with near net shape or net shape,precision forging is the right choice to source,such forging technic will refine the product to little or no machining.

As the precision forging manufacturer and supplier in China,we offer OEM service and exporting service for customers from USA,UK,Australia,Canada,ect.Such precision forgings are mainly involved in automotive components,agricultural machinery parts,railway components,mining machinery parts.In addition to forging,we can also provide other services like machining,heat treatment,surface treatment,custom package,ect.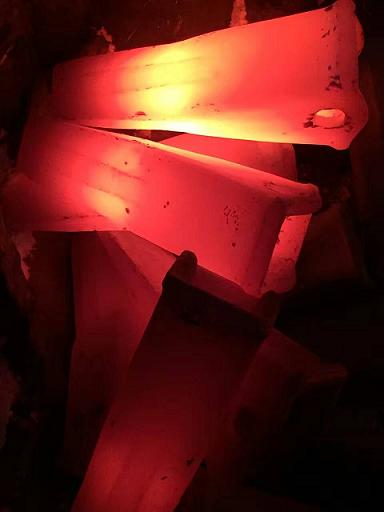 Forged bucket teeth is the manufacturing process that putting pressure on the heated steel billet between the forging dies in high temperature,so that the material will full fill the forging dies,thus to achieve desired shape.In the forging process,the billet will be plastic deformed to obtain certain mechanical properties.Bucket teeth after forging processing can improve its organizational structure and guarantee a good mechanical performance,more wear-resisting, long service life.However,cast bucket teeth are made in the condition of high temperature molten metal and then injected in the casting molds,final cast bucket teeth are thus formed after cooling. By comparison,cast bucket teeth is more easy to products defects like air holes.And both the mechanical properties and wear resistant will be worse than that of forged bucket teeth,thus to affect the serving life of products.So we always suggest forging process for excavator bucket teeth.
Currently,as the top manufacturer and exporter of forged bucket teeth in China,we are now exporting such forged replacements for both large brand excavator manufacturers and bucket teeth distributors all over the world.To improve the properties of forged bucket teeth,we always suggest our customer to select good wear resistance forging material like 42CrMo.And heat treatment will also help to improve the hardness of products.