Weldable Grab Hook
Heavy Duty Grab Hooks are used to be welded on to equipment buckets, trailers, or other surface that needs a fixed hook. Such weldable grab hooks are mainly designed in different dimensions for different weight bearing requirement. Larger hooks can bear more, just see what the application will be.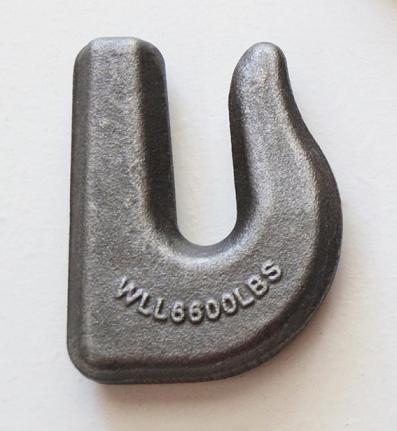 According to the application of weldable grab hooks, they need to be forged for safety consideration. It may be easy to produce inside defects by casting, which is a great risk when working. So, there is no doubt that grab hooks should be made in forging.
Advantages of Weldable Grab Hooks by Forging
After forging, the inner structure of weldable grab hooks will be refined, and no inner defects will occur.
Forging will greatly improve the strength of hooks, which will longer the serving life.
When grab hooks are welded on bucket or other surface, forging will ensure no deformation even if it is heated under high temperature.
Why Our Company for your Forged Weld on Grab Hooks?
CFS Forge is the top precision forging manufaturer in forged steel with rich forging experience, our technical team will give you a strong technic support. They can even help you to design your product in a more efficient way.
We aim to supply high quality products with competitive price. On the basis of high quality, you will benefit from our attractive pricing and can occupy a better market share for your selling.
All our cooperated customers are impressed at our service, our timely response will solve all your problems in the first time.
Located at Ningbo,China. Our customers can enjoy a convenient water transportation, which will save much shipping cost.