Closed Die Forging for Aluminum Components
The closed die forging of aluminium components is the process of converting a uniform blank shape into a final product by pressing the material between forging dies.
According to the structure of aluminum components, the closed die forging process may take place in one stage or several stages. The great majority of closed die forging for aluminium components are made in the heat-treatable alloys such as aluminum alloy 6061-T6. The forging technology has now reached an advanced level, and closed die aluminum forgings are used for many applications, such as
aerospace
,
automotive
,
pipe fittings
, etc.
Forged aluminum components
have an advantage of near net shape, minimising further machining.
Process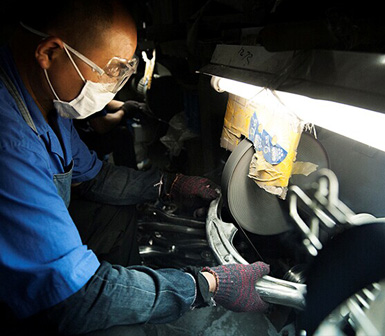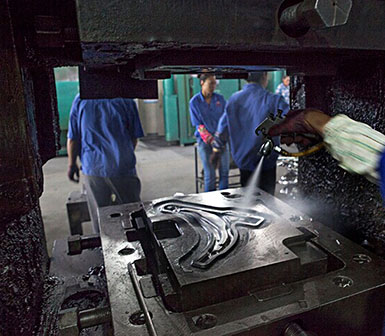 Closed die forging
is not limited to steel components, it can be used to produce aluminum components as well, just different heating methods. Before forging of aluminum alloys, blanks are cut from round bars, then these aluminum bars are preheated to temperatures in the range of 400° - 500°C, according to the alloy used.
In the production of closed die forgings, the blank is hot worked between upper and lower dies, usually on a pneumatic hammer or a press, care being taken to ensure that the degree of deformation is sufficient to provide adequate breakdown of the original cast microstructure. The rough outline of the component is developed, with the grain flow or fibre of the material in the direction of stressing.
Considering the relatively high cost of forging dies, closed die forging for aluminum components are usually associated with large quantity requirements. Since these forged pieces are produced with shaped dies, they can be subjected to strict dimensional accuracy. Also like
steel forging
, the grain flow can be controlled and further machining can be used to closer tolerances.
Therefore, closed die forging of aluminum components is produced using precsion forging dies, giving a product with a high degree of dimensional consistency, which considerably reduces the machining to the finished form. Such aluminum forgings have the advantages of good mechanical properties and structural integrity
The technology of closed die forging has advanced to produce precise aluminum forgings with higher standards of dimensional accuracy. In the nonheat treatable alloys where mechanical properties depend on the degree of cold working it is possible to cold forge. For large aluminum components, open die forging will be the ideal process to consider.
The reasons for using closed die forging for aluminum components:
Closed die forging is an economic production method of designing and making aluminum components in large production runs. Machining can be eliminated and a high production rate can be achieved. Designs can be produced that eliminate the need for joints and welds.
A high strength to weight ratio can be achieved. The act of closed die forging produces a fully wrought structure improving the shock resistance and fatigue resistance.
The surface finish is good and the elimination of porosity ensures pressure tightness.
This combination of good mechanical properties, dimensional accuracy and surface finish means that aluminium forgings are used in highly stressed parts where structural integrity is of paramount importance. The alloys commonly used for these highly stressed applications are from the 2000, 6000 and 7000 series. The aerospace industry is a major end user of aluminum forgings. Of course, each industry will have the demands of forged aluminum components.
Why Choose CFS Forge For Aluminum Forgings?
At CFS Forge, our closed die forging process can produce aluminum components in all shapes and sizes required to conform to your specifications. We supply our superb custom-made
aluminum forgings
to meet our customers' needs and even exceed their expectations.
Whether your company requires high-precision aluminum forgings, we possess the necessary technology and knowledge to forge the exact product parts you seek.
We work with a variety of aluminum alloys designed for specialized purposes. Among other alloys, we typically forge the following: 2014, 2219, 2618, 5083, 6061, 7049, 7050, 7075, 7175, as well as alternative alloys that our customers require. In addition, we offer value-added services including different surface treating processes (such as sand blasting,
anodizing
, etc) designed to meet your company's needs.
Our aim is to provide exceptional customer service based on our strict service standards for both large and small projects.
Need a reliable
closed die forging company
for your aluminum forging project in China? Pls do not hesitate to contact us now!