Drop forging manufacturer

sales@dropforging.net
Home
»
Drop Forging products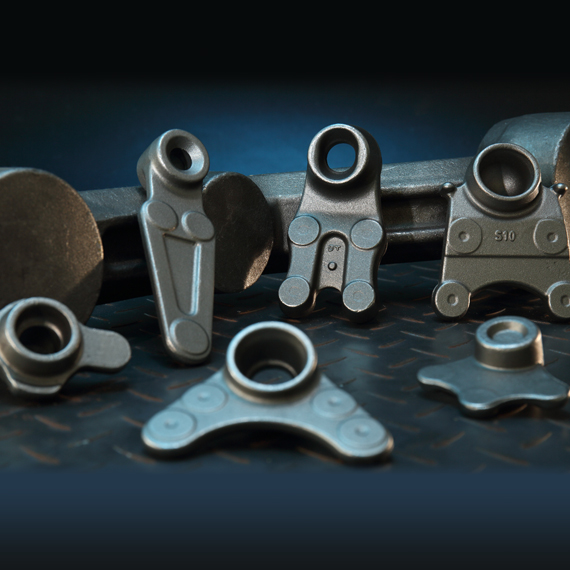 Due to the multi brands of cars and other vehicles, there are a variety types of ball joint housings that can meet different ball joint connecting. Generally, according to its application, ball joint housing is designed and produced by forging with steel.
Forging of ball joint housing is a hot die forging process, which begins with a heated billet which gets "squeezed" in dedicated dies where its grain structure is broken down and homogenized into finer grains for increased yield strength and ductility. Because the steel is hot, it gets easily deformed and allows drop forging manufacturers to create more elaborate shapes than with cold forging. The fact that the ball joint housing is plastically deformed above its recrystallization temperature, allows it to retain its deformed shape as it cools.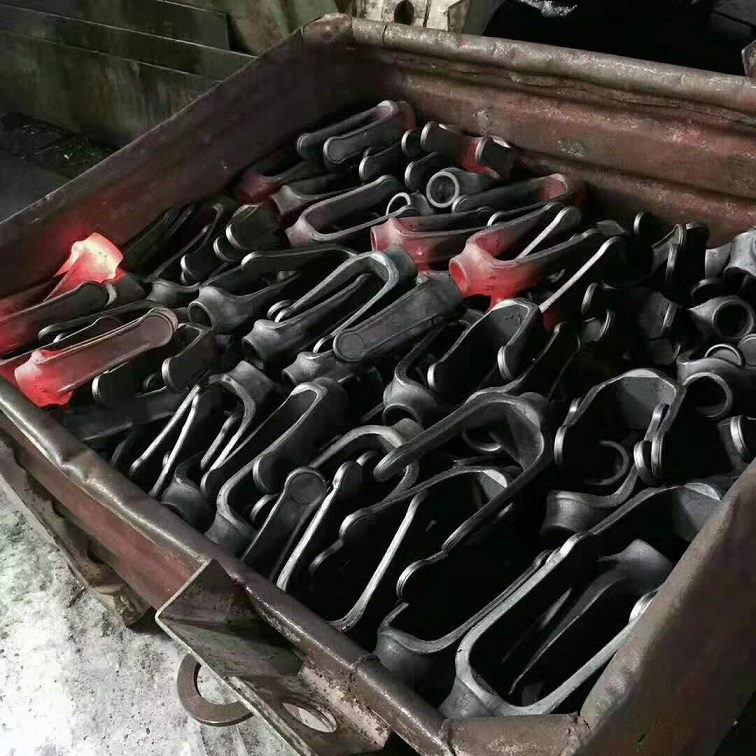 Drop forging of yoke ends is a method of shaping and forming metal using a set of dies (metal-shaping molds). Downward force is applied by the second moving part of the die. This downward force and motion is where the "drop" in drop forging comes from. As the most common metal forging method, it is very suitable to produce yoke ends.
The strength of yoke ends made by drop forging manufacturers can be greatly improved, which is for its particular use by causing the internal grain of the metal to deform to follow the shape of the part. Besides carbon steel, yoke ends can also be drop forged by other metals, such as stainless steel or aluminum. In short, drop forgings are used often to produce hardwares for industries such as aerospace, national defense, automotive, agriculture, construction, hardware, mining, material handling, etc. Many hand tools have "Drop Forged" boldly imprinted on them to indicate their added strength and durability as a result of the forging process. If you have any inquiry on drop forged yoke ends or other drop forged components, pls contact CFS Forge now!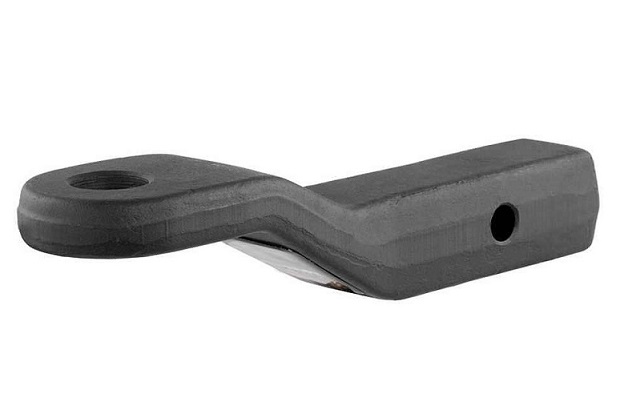 The Drop Forging Process, also referred to as Closed Die Forging, is a process that manipulates hot metal completely within the wall cavity of two dies. The impression for the forging can be in either die or divided between a top and bottom die. The drop forging process can improves the strength of ball mounts by aligning the grain along the lines of potential stress, which cannot be achieved through casting, machining or fabrication. So, drop forging is always used to produce metal components like hitch ball, ball mounts, ect by our customers trailer towing application.
Drop Forged Materials selected to produce ball mounts can be either forged steel or forged aluminum. Forged aluminum ball mounts for trailer towing can achieve light weight, but due to the higher material cost, the price of drop forged aluminum ball mounts will be higher than that of drop forged steel ball mounts.
As a comprehensive drop forging company, CFS Forge can supply custom service for both steel forgings and aluminum forgings. So, no matter it is forged steel ball mounts or forged aluminum ball mounts, we will be all able to supply in competitive prices.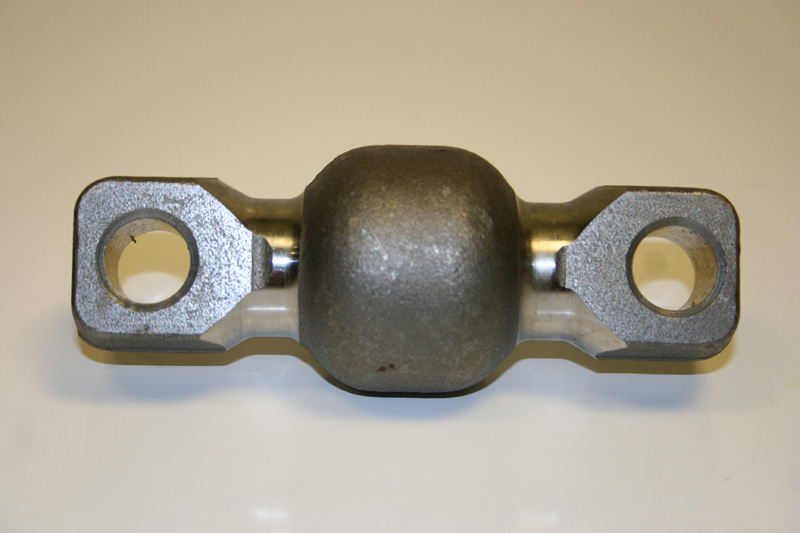 Simply introduction of forging process: Selecting equal specification bars in stock, and cutting them into required length by sawing machine. Heat them to a certain temperature by heating furnace
(medium frequency furnace). Next, place them under forging dies and press in few seconds for desired shape. Finally, remove the flash and shot blasting to final dimensions. In most cases,
machining will be done after forging.
Advantages of forged torque rod bush:
Greater strength to weight ratio
Better fatigue resistance
Continuous grain flow
Reliable and consistent quality.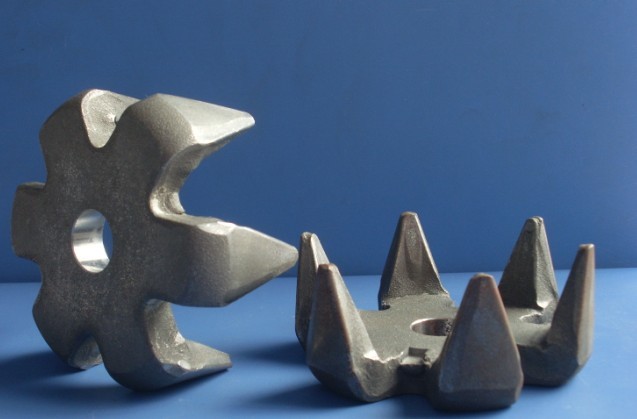 The claw pole is the key part of the motor generator. the material quality and forging forming quality of the claw pole are the key factors that affect the output power of the generator.
Forging has the features of high material utilization, dense inner structure and excellent product performance. So forging is the best technology solution for claw pole to replace castings with environmental protection and high quality.

Our forging service is provided not limited to claw poles, but for all custom components for the automotive industry, building and construction, engineering, mining, power generation and distribution, communications, government, defence, railways, ports, harbours and marine, the road transport industry, oil and gas/petrochemical, chemical and process plant, aerospace, agriculture, fastener distribution /merchants, tool and engineering / merchant, etc.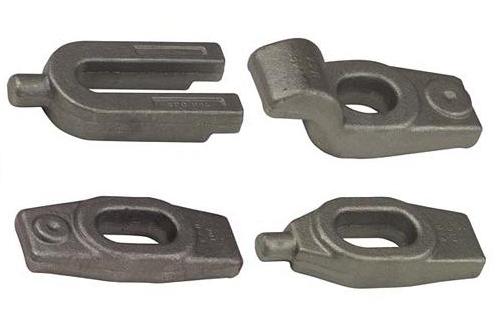 Unlike casting, forging will increase the strength of forged clamp straps, and can effectively avoid the inner defects caused by casting. That is why forging is used for producing clamp straps. Most important is that, although the tooling cost is high, it is just once paid, and will not be charged in further orders. Also in the long term, the unit cost is low for the large quantity.

In Summary, Fly Forge is your one stop source for forged clamp straps. Our company can supply forging, machining, heat treatment and surface finish services. Pls contact us if you have a project
for forged clamp straps or other related forgings ( for example, drop forged C clamps), we will provide best quality with competitive prices!
Over 15 years in exporting closed die drop forgings to overseas companies, we forge the grinder wear parts to our customers' specifications in best wear resistant material. Our in house machining capability can fulfill the machining requirement for your assembling. Take tub grinder teeth for example, forging can not realise all the sizes required, the inner holes has to be machined after forging, so that it can be assembled to the machine by bolt. So it is also called bolt on grinder teeth. To ensure correct application, we will customize a jig for testing.

By offering high quality grinder wear parts in low price, CFS Forge is a one stop forging company for such forged grinder wear parts from new tooling to forging, machining & heat treatment. Contact us for your custom grinder wear parts to suit your wood waste tub or Horizontal grinder.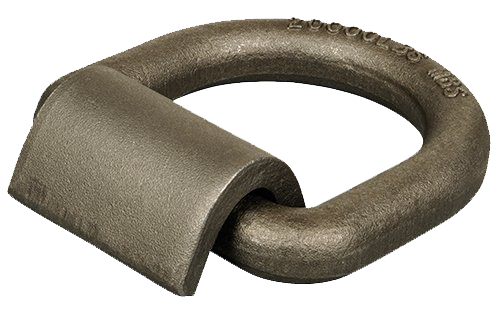 This particular drop forged D-ring is designed to be welded onto a metal frame to add a solid anchoring point for cargo straps, ropes, cables or chains. It features forged steel construction and a capacity of 46,760 lbs., making it strong enough for many commercial and industrial applications. The heavy-duty D-ring and bracket feature a raw finish to be readily welded on, and the ring offers a large opening to accept clevis hooks. Ideally, a D-ring swings freely after it has been secured. D-rings may vary in composition, geometry, weight, finish and load (rated) capacity.
CFS Forge is a top closed die drop forging company in China, we can customize all kinds of welded on D-rings with the drawing specification. Besides weld on D-ring, we can also provide bolt on
D-ring with our advanced forging process. We aim to provide our customers high quality products with reasonable price. Our high quality is guaranteed by using good quality raw material,
advanced forging process and district quality control. All these will help us to deliver qualified products to our customers. So if you are looking for welded on D-ring, or other forged products, pls
contact us, we will try our best to offer you our good price first.
In terms of temperature, there are different types of forging: hot forging, warm forging and cold forging. Hot forging is the most popular forging process among these forging types. All the forging technique used in Fly Forge is hot forging, so this article we will introduce hot forging in detail.

Hot forging, also called drop forging, is a process to produce a wide variety of most metal parts. Hot forging process is developed since the last century, but with the development of equipment, lubricants, and forging ability, modern hot forging process is able to make more complex shapes with more materials since that time. The basic procedure for hot forging is relatively simple. Metal bar or billet is first heated into the hot working temperature range to improve ductility. Then the material is squeezed or hammered in a series of tool steel dies to deform the billet into the finished shape. Flash casused by excess material after forging is exsited, so the final step is to remove the flash to yield the finished forged part. Hot forging is a near net shape process, but some forgings may require some subsequent machining, in particular for surfaces that may affect the final assembly of a product.


Main feature of open die forging is that the production equipment is relatively simple, so the cost is low. Compared with the casting blank, open die forging eliminates the defects such as shrinkage, gas holes, porosity, ect. So products after open die forging have higher mechanical properties. As open die forging shape is simple and the operation is flexible, therefore, it always act as important parts in heavy machinery equipments.

Heavy Duty Grab Hooks are used to be welded on to equipment buckets, trailers, or other surface that needs a fixed hook. Such weldable grab hooks are mainly designed in different dimensions for different weight bearing requirement. Larger hooks can bear more, just see what the application will be.

According to the application of weldable grab hooks, they need to be forged for safety consideration. It may be easy to produce inside defects by casting, which is a great risk when working. So, there is no doubt that grab hooks should be made in forging.