Drop forging manufacturer

sales@dropforging.net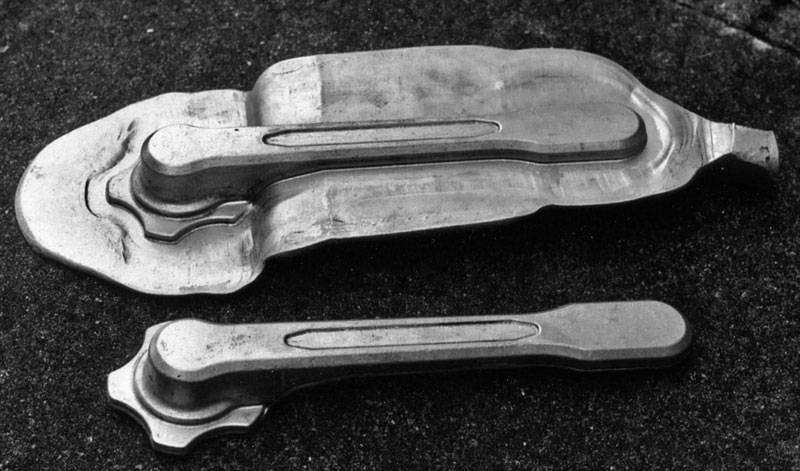 Near net shape manufacturing technologies produce components that are close to the finished size and shape,requiring a minimal amount of finishing process such as machining.
Closed die forging is such a near net shape forging process that requires less or no machining.It will be helpful for us to save machining cost.
Why closed die forging is near net shape forging?
*Compared to machining process,closed die forging is a precision forging process with flash,so the only waste of material is just the flash section.We could also use machining
to replace closed die forging process sometimes,but as the desired shape by total machining has be reached by machining equipments,so much of material will be wasted.
Here the "closed die forging" and "machining" are the two different metal forming processes for the same product.

Closed die forging is a forging process that made from special bar quality steel. As steel bars are usually rolled, the grain structure within the steel is forced to flow along the centerline of the bar.When a forging is produced from the bar,this inherent grain flow bends to follow the contour of the forged shape,thus producing a superior part.The structural reliability of forgings allows designers to trust the material to adhere to the safety factors of the design.It also can provide more uniform response to heat treatment and machining operations.

Machining is a precison processing process that machines from bars directly with machining equipments.Machining will by definition cut through part of the grain flow.This renders the material more liable to fatigue and more sensitive to stress corrosion cracking.

The good quality in the drop forging is resolute by just a selection of variables.Generally,the decision of steel ingots with really smooth and refined surface at the same time as improvement made towards the entire operation approach can make excellent difference to the quality in the steel components that are to be drop forged.

Usually,the steel ingots or steel billets of which the alloy mold is created have several defects around the surface,like cracks,mixtures,scab,and so forth.So as to steer clear of these defects or avoid them from being worse throughout the method of heating and forging,there's a need to dispose of those defects.The prevalent disposal techniques for the surface of these ingots include grinding,flame cutting,sand blasting for example.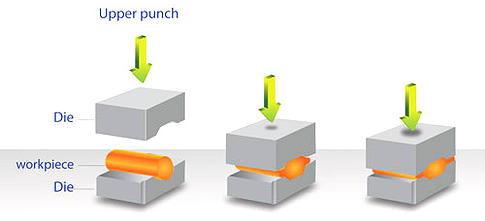 Closed die forging is also named as impression die forging.In impression-die work metal is placed between upper and lower dies that attached to the anvil.Usually the hammer die is shaped as well.The hammer is then dropped on the workpiece so that the metal flows and fills the die cavities.The hammer is generally working on the workpiece at the speed of milliseconds.Depending on the size and complexity of the part the hammer may be dropped several times in quick succession.Excess metal is squeezed out of the die cavities,we call this flash.The flash cools more rapidly than the rest of the material;this cool metal is stronger than the metal in the die so it helps prevent more flash from forming.This also forces the metal to completely fill the die cavity.After forging,the flash is removed by punching machine(Of course,trimming die will also first made together with forging dies).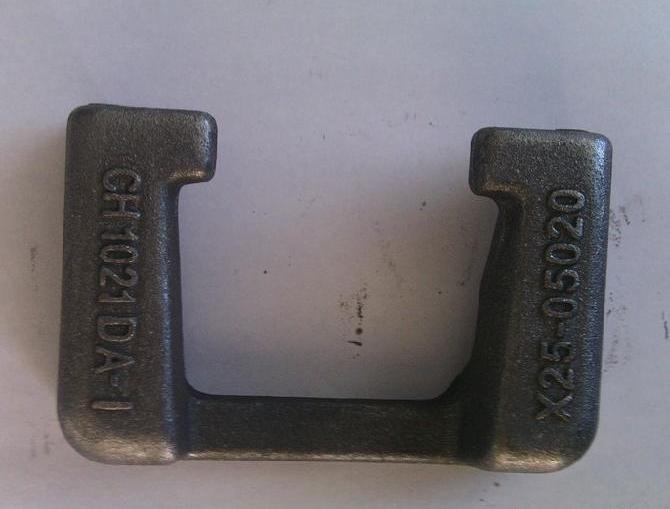 Background
:Introduced to Fly Drop Forge during a trade show nearly 3 years ago,a U.S.-based manufacturer was seeking a closed die forging manufacturer to bridge the gap between
their domestic operations and a client's goals of overseas saving.
Challenges:
Aside from showing a cost savings,quality was the biggest challenge on this project.The closed die forging being requested had not been manufactured successfully
overseas on a consistent basis by many factories.Fly company had to not only learn the product,but also creat the closed die forging processes through which super-clean parts
that were adherent to tolerances could be produced.
The techniques of closed die forging are capable of achieving some of the strongest metal products when compared to other manufacturing processes.During the process of closed die forging,forging operations used can seal any cracks or empty spaces of the billet,therefore creating very strong metal parts.The typical method that can achieve this is known as closed die drop forging,which is when a plate of metal is placed between two dies,and then compressed under extreme pressure within the closed cavities to form the shape between the molds.The cavities restrict the flow of the metal inside the die (mold),and the metal will flow to fill the space within the cavity,resulting in the shape and dimensions of the mold design.Depending on the type of metal used,this process can be done while the metal is hot forging.

The Closed Die Forging process forces the material to flow and fill the space in the mold also changes the grain structure of the metal while making the product very strong.The flow is controlled in the direction what will achieve the strongest results and best grain structure.The high pressures of the process condenses the individual grains of the metal,resulting in higher density of the material and stronger properties.
It is a custom process for manufacturing drop forgings,so there exsits difficulty to develop a new product.We all know that there are different requirements for different products,some just require drop forging only,some require machining to reach tighter tolerances and some require heat treatment......So it is really unknown that if the potential suppliers we choose are suitable.If buyers would like to custom cheap drop forgings from China with good quality,it is really necessary for them to arrange a visit before ordering.

So when visiting,what should purchasers pay attention to?

*What is the scale of the company?
The scales of a forging company will decide its capability.A scaled drop forging company should have more than 80 staff.Like our company,there are about 150 staff,which is the largest drop forging company in Ningbo.It does not mean small scale drop forging company can not supply high quality products,at least its production ability is limited,and we can not say the lead time is ensured.
In recent years,more and more companies are used to manufacturing drop forgings from China.Then why do they like to do that?The most attractive point is that they can buy high quality production with low price.Normally,it is about 50%-60% cheaper to custom drop forging productions from Chinese drop forging companies than that of developed countries.Nowadays,for the improving of drop forging process,customers do not need to worry about quality problem.Take our company for example,to meet customers'demands of drop forging products in all applications,we are now equiped with ISO9001:2008,TS16949,API certifications.And we could not only supply drop forging blanks,but also machining can be provided also,so that we could custom finished drop forging products to our customers.
Together with investment casting,closed die forging is also one of the main metal forming processes for precision parts.Comparing with closed die forging companies in other countries(USA,UK,Canada),it will be much cheaper to custom closed die forgings in China for its low material cost,low larour cost,ect.So after China took part in WTO in new century,more and more people import closed die forgings from China on a regular basis.

Then how to import closed die forgings from China?
First of all,importers should have a basis understanding on Chinese closed die forging market.Ningbo is the main production base for closed die forging parts.We can see lots of closed die forging factories with different scales in Ningbo.Take our company as example,Fly Drop Forge is the largest closed die forging factory in Ningbo with 150 workers.Each year,we deliver about 10000t products to countries around the world.By virtue of its good geographical advantage(Ningbo seaport),we can arrange delivery in the shortest time.

Closed die forging cost is the cost that buyers who would like to choose closed die forging as their metal forming process for its superior advantages.Closed die forging process
will make products in high strength and good properties.And there will require less or no machining with no defects and good surface finish.Our PO PROCEDURE will guide you how
to buy closed die forgings from our company.Below are the main factors that will greatly affect the cost of a closed die forging product:
Tooling/die cost--As the forging is "closed die",not"open die",so a set of upper and lower dies will be designed and produced first before start forging process.To achieve high precision products,such dies must be machined from tool steel block with cnc machines.Normally it will cost about 7-10 working days to finish closed die forging dies.And the tooling/die cost will depond on the product structure and dimensions,normally at 2000usd-4000usd.
Steering knuckle is one of the main parts of automotive steering bridge, to be able to make the car driving stable and sensitive relay driving direction.One Role is to pass on steering wheel turning Angle value to the car front wheel effectively,timely control the car moving route,thus to ensure the safety of the car;Another effect is to bear load of
the front car,supporting and driving wheels turn around the king pin,in the condition of the car moving,undertake variable impact load.So steering knuckle requires not only reliable strength,and must ensure its high machining accuracy.Its geometry is complicated,so the machining sections are more,the machining precision of high and low will affect the vehicle running accuracy.Based on the forging analysis of two different forging process of steering knuckle,discussing the influence of parting ways,distribution of allowance on machining processing.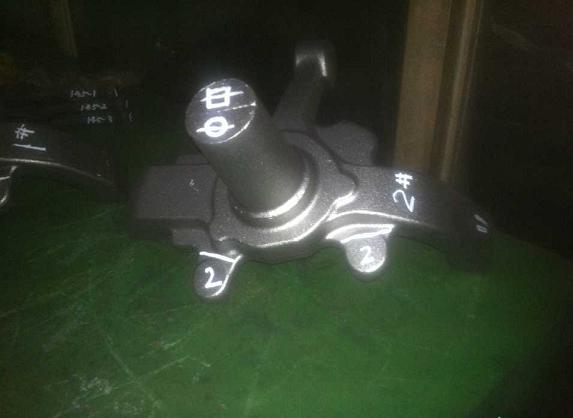 Steering knuckle is the safety component of a car.It may cause heavy traffic accidents if there is any quality problem.The geometry of automobile steering knuckle is complex,belongs to compound type of forgings,consists of the fork,plate,bar of three parts.So the forging technology need to aspire to forming characteristics of three kinds of forgings.Steering knuckle is regards as the most complex forging parts in forging industry.
Now there are some car steering knuckle also increased the steering arm and tie rod arm,whose structure is more complex,the current steering knuckle is widely used in the van and light vehicle,also have individual heavy vehicles use this structure of steering knuckle.As shown is a light vehicle steering knuckle,its structure is very special,and its forging is difficult.Steering knuckle forging in the part was made by use of 3t,5t,10t die forging hammer,13 tm double-action hammer and some other forging equipments,but the production efficiency is low and product quality is poor.In recent years,auto production every year increases by double-digit growth,and the demand of steering knuckle is increasing rapidly,the old mode of production has not suitable for the needs of the modernization and mass production.