Rubber Track Metal Core
Rubber track is a conveying system widely used in construction machinery equipments (such as excavator, CTL/MTL and drill machine) and agricultural machinery (combine harvester, small dumper / carrier, tractor). The Metal core attaches itself to the sprocket and prevents the rubber track from slipping off the wheel. And the metal core is firmly bonded to the rubber by a special adhesive treatment. Below is a picture showing the usage of metal cores for your better understanding: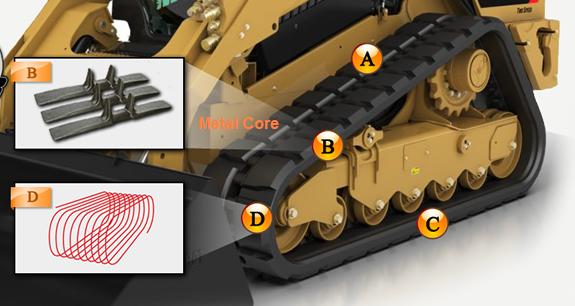 Due to the advantages of
drop forging
, such rubber track metal core will be drop forged to achieve high strength, and then heat treated to meet enough hardness, which will reduce vibration when rubber track works.Main material used for forged rubber track metal core is 1045 seel and 40Cr, we can also make metal cores in other material specification according to our customers' requirements.
Advantages of rubber track metal core from our company:
*Our advanced closed die forging technology will help you to achieve high quality products with good working performance (refer to our
manufacturing process of rubber track metal core
to be more impressive).
*With various forging equipments in different tons, we can customize rubber track metal core in different dimensions. Just pls supply us your drawings or samples.
*With annual production capabilities up to 9,000tons, there is no need to worry about if we can meet your large quantity order. We can deliver goods according to your order requirements.
*As all the operations (like forging dies development, forging, heat treatment, inspection, package, ect) are done in house, so we can offer you our most competitive prices in shortes lead time.
For the large demands,we have developped hundreds of types for our customers. And we mainly export these rubber track metal cores to rubber track manufacturers or dealers from US, UK, Australia, Canada and many other Eourpean and American countries. We also attach some sample photos of the rubber track metal core we ever made for your reference in below. Just pls contact us if you need to source supplier in China.
| | | | |
| --- | --- | --- | --- |
| | | | |
| Metal core-CFS 01 | Metal core-CFS 02 | Metal core-CFS 03 | Metal core-CFS 04 |
| | | | |
| Metal core-CFS 05 | Metal core-CFS 06 | Metal core-CFS 07 | Metal core-CFS 08 |