Control Arm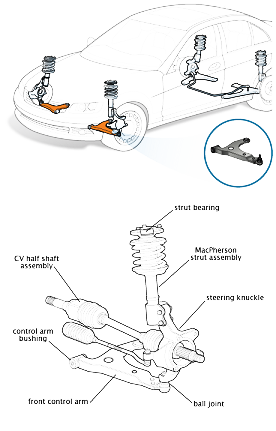 We can see all kinds of automotive parts in a car, like rocker arm, control arm,
connecting rod
, tie rod end, etc. All these components are all made in drop forging process. A control arm is a bar that has a pivot at both ends. A car has several, including the upper control arm and the lower control arm, which are arranged to form the letter A.Control arms are part of the suspension system. They attach suspension members to the chassis and manage the motion of the wheels so that it synchronizes with that of the body of the car. They work with bushings, which are cylindrical linings that reduce friction and restrain the auto parts from going every which way.
As a result, you are able to go on joy rides without feeling sick and dizzy, as there is control and smoothness in the movement of the car. The two bottom points of the control arms that form the letter A are attached to the frame of the vehicle while the top point is attached to the spindle. Three or four control arms are placed between the rear axle housing and the frame if you have coil springs in both the front and rear suspensions.Like other body parts, the control arms should also be lubricated at every oil inspection. Handling and steering could become erratic if the control arms are malfunctioning and the unsteady movements of your car could take away your riding comfort.
Main Characteristics of Control Arms
Control Arms are produced using a combination of drop forging
High material strength and properties are achieved as the product is a fully wrought material
Most forged steel control arms have a sealed for life, integral ball joint making them the most reliable configuration possible
Machining of the forged steel control arm is completed with 25% the capital, 10% of the cycle time and tool life 10 to 100 times that of an equivalent steel product
Using a Forged Steel Control arms in the suspension system reduces the un-sprung mass increasing the performance of the system while allowing for the adjacent component's mass to be reduced
CFS' Control Arms offer outstanding performance at an extremely competitive price. The Advantage corrosion-resistant arms are thoroughly tested to ensure durability and feature lightweight aluminum construction, where required, and greaseable ball joints for easy maintenance and long life, where applicable. Manufactured in TS16949-certified facilities, CFS' Control Arms are the value leader for budget-conscious buyers. What's more, other
automotive parts
can also be made in our factory.