Closed Die Forging for Marine Application
Closed die forging
is a process by which a billet of simple cross section is plastically deformed by applying compressive forces through dies or tools to obtain a more complex shape. In closed die forging, two or more dies are moved toward other to form a metal billet that is heated to the appropriate forging temperature. This process is capable of producing components of high quality at moderate cost. It offers a high strength-toweight ratio, toughness, and resistance to impact and fatigue. This forging technique allows us to produce lots of metal components with critical safety consideration.
Closed die forgings could be served for components in automobile/automotive industry and in aircraft, railroad, and mining equipment. And, marine industry is also one of the main field that closed die forging involves in.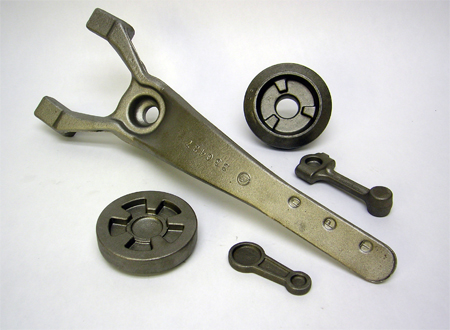 Advantages of Forging for Marine Application:
High production rates
Excellent dimensional tolerances and surface finish
Significant savings in material and machining
Higher tensile strengths in the forged part than in the original material because of strain hardening
Favorable grain flow to improve strength
Fly Forge has a great reputation as a premium provider of consistent quality closed die forgings for critical components in marine applications — and has earned customer quality certifications.
Our comprehensive quality management system includes:
CMM Inspection
Magnetic Particle Inspection
Other NDA Inspections
Gauging
And ects.
Our company supplies marine equipment with closed die forging solutions of marine components such as connecting rods, drive yokes and other marine specific forging products. We aim to provide marine companies the best quality forged parts for all the marine needs.
We deliver closed die forgings for marine application in a variety of materials such as
Carbon steels eg. S355J2, C45 and 28Mn6
Low alloy steels eg. 34CrNiMo6, 42CrMo4
Stainless Steel eg. SS304, SS316.
Engineering & Product Development Support
Before producing marind forgings, Fly Forge utilizes solid modeling to fulfill our design needs, working from conceptual drawings or customer-supplied 3-D models of the desired product. We work closely with our customers to enhance the design to maximize quality and manufacturability at the lowest cost.
Our CNC capability enables us to quickly produce forging dies in house with lead time less than 3 weeks as samples for prospective customers
We utilize advanced forging equipments and testing instrucments to finish forgings as required!
What's more, we provide flexibility to fit our customers' needs, from the initial raw forging to the finished, heat treated component, or anything in between.
Typical closed die forged parts for marine application:
| | |
| --- | --- |
| Anchor link | End Shackle |
| Eye Bolts | Hatch handle |
| Connecting Links | Round Pin Anchor Shackle |
| Crossbar Forgings | Swivels |
| Cup Forgings | Twist lock hatch |
| Hex Spindles | Ullage arm |
| Hinge Blades | Ullage hatch |
| Pinions | Wedges |
| Safety Hooks | |
At CFS Forge, we are considered as a world class
closed die drop forging
supplier for marine forgings in China, and we pride ourselves in supplying quality products with lowest costs. Pls contact us while you have such needs.