Tie Rod Ends
What are Tie Rod Ends? And How do They Work?
Tie rod ends are used in the steering linkage, steering knuckle pivot supports, and various hinge mechanisms of
automotive
industry. They connect the center link to the steering knuckle on cars with ordinary suspension systems and recirculating ball steering gears. Together with the ball joints, tie rod ends make sure the car steers left and right at the same time it is hitting bumps and potholes that might cause the wheel to travel up and down.
The sleeve connects the inner and outer tie rod ends together and allows for adjustment when the front wheels are aligned. The outer tie rod ends are connected to the steering knuckle that actually turns the front wheels. The steering knuckle has an upper and lower ball joint that it pivots on and creates the geometry of the steering axis. It consists of an inner and outer end. The inner tie rod ends are attached to either end of the center link and are served as pivot points for the steering gear.
In order to be more effective,the steering system has to turn the wheels at the same rate and along the same plane in any condition. The tie rod and the ball joint will see to it that the wheels are held firmly. A worn tie rod can result in abnormal wear patterns on the tires, wandering and erratic steering. Except tie rod replacement, wheel alignment is also needed as tie rod replacement disturbs the toe setting. In a word, users should check steering and suspension systems on a regular basis or consult a qualified service technician for best results.
Tie Rod Ends in CFS Forge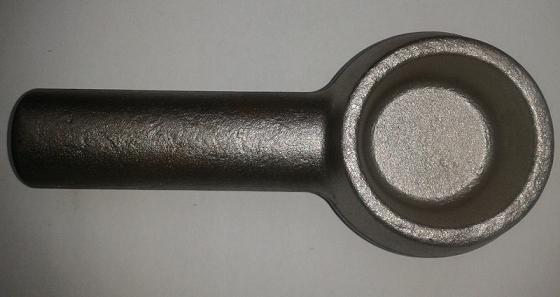 CFS Forge manufactures tie rod ends for a number of cars and other off highway parts applications. We can also provide rough machined sockets as well as unfurnished tie rods for you to finish machine, grind, or assemble. Our tie rods come ready to be assembled with bearings or grease fittings. Tie Rods may have 1 or more bends in the forging. CFS is equipped to handle various bends located along the bar. CFS can make not only tie rod ends, but also other automotive forgings (
connecting rod
,
rocker arm
,
control arm
, etc) can be made in our factory. Besides, we also offer heat treating, surface coating, machining, etc. The drop forging process adds strength to the steel because the grain flow structure is improved. CFS will make a custom die for your forging needs. Please send us your drawing or sample and we will be happy to send our best price for you.