Rigging Shackle
What is Rigging Shackle?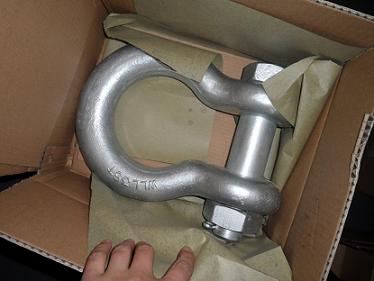 Rigging shackle is a u-shaped metal piece with a clevis pin or bolt across the opening. According to its usage,such rigging shackles are designed into different types, like bolt type anchor shackles, screw pin anchor shackles, screw pin sling shacke, bolt type chain shackle, ect. Shackles are the main connecting link used in rigging systems, from boats, ships to industrial crane rigging. They are used for not only lifting, but also for securing loads, retrieval, fall precaution, and other activities. These shackles are made from high corrosion resistant stainless steel, carbon steel and steel alloy both self-colored and galvanized, which makes them capable of enduring years of tough rigging. However if not used properly you run the risk of not only breaking the shackle but injuring yourself or others.
Tips on Proper Use of Rigging Shackles
Never weld on to a shackle body or pin.
Avoid sudden acceleration, deceleration or shock loading to any rigging equipment.
When attaching a shackle to a load or a sling as a lifting member,tighten the pin securely in place and employ any means necessary to "mouse" the pin to prevent it from backing out.
Check the shackle pin (nut/cotter pin if that style),ears and bail for deformation,cracks or metal loss prior to each lift.
Never load shackles beyond their Safe Work Load Limit.
Never substitute a shackle pin with anything other than the exact replacement pin from the manufacturer.
Always position the shackle in such a manner so it is being pulled bail to pin,not side-to-side.
Never force too small a shackle onto a hook.
Never allow the pin to be in contact with a "running" portion of a sling body, as the pin may be unscrewed.
Check with the manufacturer as to chemical effects on shackles when using caustic or acidic environments.Remove shackle from service for chemical pitting on pin body.
Rigging Shackles Made in Fly Forge
Fly Forge is an authorized manufacturer for rigging hardware districtutor/dealer (shackle,
wire rope clip
, hook,
eyebolt
,
eye nuts
, ect). We can
drop forge
shackles in any type with stainless steel, carbon steel or other steels. Our in house heat treatment will greatly improve the strength of such parts. And assembling to be a whole is also one of the benefits for us to manufacture shackles for you. Currently, all our rigging shackles are exported to Europe and America region. Just pls contact us right now, no type limitation, no time limitation!