Forged Steel Lunette Ring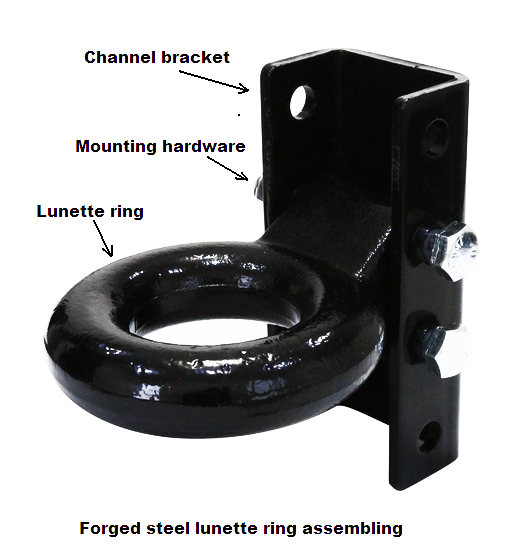 Lunette ring
is the ideal product for heavy duty application, no matter in agricultural or construction machinery.To obtain good working performance, such lunette ring is always required by our clients with
forged steel
. Forged steel lunette ring will perfectly couple with a pintle hitch. This type product is designed for a channel mount assembling.
Application of Forged Steel Lunette Ring
Take the lunette ring in the photo for example, this forged steel lunette right can bear a weight capacity of 24,000 pounds. The ring will be assembled into an channel bracket with 4 holes design. And the adjustable channel bracket allows users to change the height of forged steel lunette ring that deponds on the actual needs. Besides, lunette ring will be screwed to channel bracket by mounting hardware, which will be very strong and durable. And then, the channel bracket will be welded to the trailer for towing. So, to be more conveninent, we can also custom the channel mount and hardware together, and assemling service can be also provided in our factory.
Forged Steel Lunette Ring Manufacturer in China
As the manufacturer and exporter of closed die forged steel parts in China, we can help our customers to produce forged steel lunette rings with different weight capacities. Material of forged steel lunette right can be AISI 4140 (42CrMo) or other forged steel materials. Pls contact us when you have such inquiry!