Drop Forging For Rail Clamp
Rail clamp, also known as railway clamp, railroad clamps, sometimes called
rail clip
or rail fixing clip, is kind of device to be clamped on tracks to prevent the train from moving or passing a given point to the ground (as at platforms or on stub tracks) to avoid risks or dangers. Such rail clamps are always boltable, self-locking, adjustable with fine tolerance and high clip strength.

Due to the high volume and high quality requirement on rail clamps,
drop forging
is suggested to produce rail clamp. Ideal material could be carbon steel such as Q235 or other grade.
To start drop forging, the dies are designed and manufactured first whose cavity is the same shape of rail clamp. Different from casting mold, the dies need to bear high pressure and tool steel such as H13 is used as the dies material. Once forging dies are ready, the material bars are cut and heated, then tranferred to the forging press, then pressed between forging dies to achieve desired shape. Next, remove the flash on trimming dies, and shot blasting to clean the surface of rail clamps. The whole drop forging process of rail clamps is very fast, and the quality, especially the strength, can be guaranteed.
Drop Forging refines the grain structure of rail clamps and develops the optimum grain flow, which imparts desirable directional properties such as tensile strength, ductility, impact toughness, fracture toughness and fatigue strength. In addition, drop forged rail clamps are free from internal voids and porosity. The whole forging process achieves very consistent material uniformity, which results in uniform mechanical properties and a uniform, predictable response to heat treatment.
Leading Drop Forging Manufacturer For Rail Clamps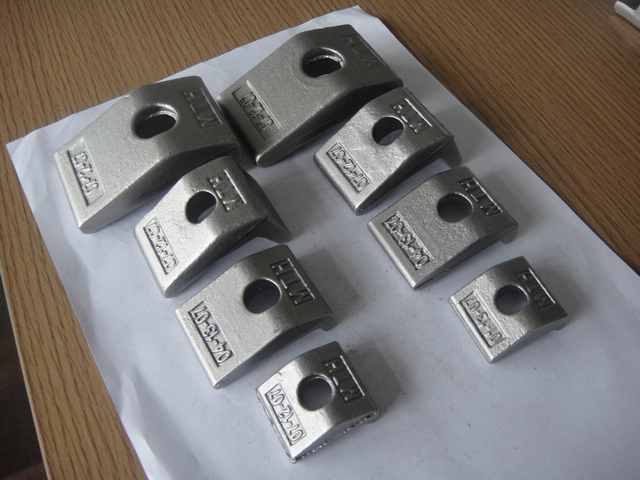 CFS Forge is a trusted
drop forging manufacturer
provides you a large range of rail clamps, which is widely applied in rail construction around the world for its top class and durability. We mainly supply custom forging service on rail clamps from customer's drawings or samples.
CFS uses the high quality steel to meet industry standards and market demand of the rail clamp. Either boltable rail clamps and weldable rail clamps are widely used in the construction of the railway and can be exported to different countries, the first-class quality and strong durability have been revealed beyond doubt and won the high praise of customers.
Any inquiry on forged rail clamp or other railway forgings, pls feel free to contact us!