How to Find A Good Aluminum Forging Manufacturer in China?
After a new aluminum forged product is designed, a lot of companies would be ready to make the design into production from China for its low production cost. At this point, it will be of great importance to select a proper
aluminum forging
manufacturer. Personally, I've been working in the aluminum forging industry for many years, and have known lots of aluminum forging manufacturers, big or small. In this article, I am going to sum up my years of understanding and experience in the profession and would be happy to share it with all of you.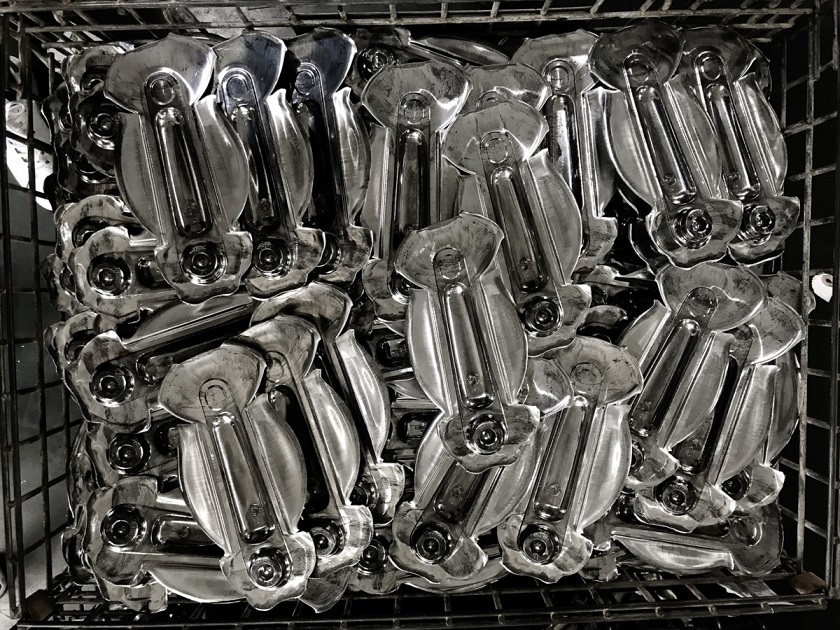 Which Type of Aluminum Forging Manufacturer is Better Choice for Cooperation?
Currently, there is a diversity of aluminum forging manufacturers available in the China market, including foreign-funded companies, Taiwan invested firms, Hong Kong enterprises, and domestic ones. The pros and cons comparison between each type of aluminum forging manufacturers are stated as below:
Foreign-funded aluminum forging manufacturers are characterized by standardized management, robust processes, strong service awareness, as well as assured quality and service, but their overhead costs and selling expenses are pretty high, meaning that the total price will be accordingly higher. If you have a strong financial capacity and would like to seek a company that is able to provide assured product quality, a large size foreign-funded aluminum forging manufacturer will be your choice of cooperator! However, in practice, large sized foreign-funded companies often have regular clients, so their prices will often be in line with the international market, which is not easy for many enterprises to accept.
Chinese privately owned aluminum forging manufacturers are mostly established by the first batch foreign enterprise employees who first accessed the aluminum forging industry. Dubbed up-and-coming stars, one of the biggest inherent advantages of such enterprises is the relatively low material, overhead and selling costs. The product prices they offer are definitely lower than those of foreign, Taiwan and Hong Kong aluminum forging manufacturer, so they are always able to attract the attention of a large number of aluminum forging buyers.
Factors to Consider for Selecting A Good Aluminum Forging Company in China
Personally, I think the choice in this regard is dependent on the circumstances. From the perspective of factory size, everyone will preferentially choose the largest one, because the large ones are usually fully equipped and thus more competent! Potentially, their sizes also reflect the level of customer's choice. But, on the other hand, the larger the size, the higher the overhead costs will be, so the price will not be as competitive. In particular, the prices offered by large-sized foreign-funded aluminum forging manufacturers are literally unacceptable for most buyers. It is of critical importance that whether the aluminum forging manufacturer you select treat you as a VIP, i.e. whether they respect you. As a matter of fact, looking for a supplier is like choosing a partner, a suitable match is required. If your company does not have a strong financial capacity and your purchase volume is not big enough, looking for cooperation with large-sized aluminum forging manufacturers will only lead to the result that you are not respectfully treated despite the money you spend because you are not able to meet their requirements, be it order amount or volume. That is to say, they cannot benefit from your orders.
Actually, for most purchasers, price is the most attractive factor for them to decide a manufacturer. However, you will soon find other concerns arising – can the aluminum forging company be produced punctually with assured quality, do they have machining and heat treatment capabilities as well? At this point, I would suggest you pay attention to the general knowledge that you have to select a full service aluminum forging manufacturer, i.e. it has to be equipped with forging press with right tons, spectrometer, hardness tester and 3D/2D measuring instruments that are necessary for aluminum forging production and testing. This is the point that should be taken as the key element for inspection, evaluation and final selection of an aluminum forging manufacturer.
Meet Aluminum Forging Manufacturer Face to Face, or Ask For Some Reference Customers before Ordering.
When you search "China aluminum forging manufacturer "or" Chinese aluminum forging company" in Google, you will get a lot of contacts from aluminum forging manufacturers in China, I suggest you send RFQs to 2 or more aluminum forging companies, then you can compare their prices, they react speed, their professional support. Normally the aluminum forging manufacturer arranges an engineer or a sales who have the engineering background to contact you, it will be much better than a sales girl without any engineering experience. Because aluminum forging is a customize and professional service, aluminum forging experience will help a lot in communication and avoid misunderstanding in engineering. it will save lots of time and cost. When you decide to work with one aluminum forging manufacturer, I suggest to visit them on site, then you can check their facility and talk to them face to face. if time or budget is limited, then you can ask for some reference customers from your own country who are dealing with them, the people who live in the same country and culture are always more trustworthy.
CFS Drop Forge
is a professional aluminum forging manufacturer in Ningbo China. We have more than 100 customers all over the world, who mainly come from European and US.