Drop Forging Machining
Drop forging process
can make the metal piece stronger than investment casted or machined part. When forging, the metal is shape and its internal grain flows to follow the shape of the part. At last, the grain is continuous throughout the part, thus to improve the stength.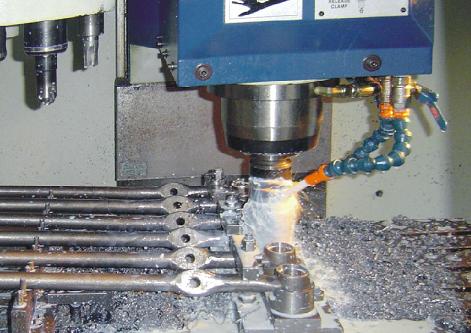 Although there are lots of
advantages
of forging process, we still can not leave machining. Drop forging can only provide blanks, if you have higher demands, like making holes, better surface finish, tight tolerance for correct assembly, etc, we have to meet by machining. CFS' on-site machining workshop allows us to be your best source for finished and machined parts. In our company, our customers are able to eliminate the quality inconsistencies, which is due to separate forging and machining manufacturers. Besides, it will also help you to save much costs and time.
Machining advantages of drop forgings from CFS company:
*Advanced
machining equipments
like cnc, milling machine, drilling machine, facing machine, etc. All these equipments are all purchased from overseas large machining equipment manufacturers.
*Multiple materials, we could machine various material specifications.
*Low machining cost: Machining is provided so that our customers could get better experience, no need to outsource.
*First-class machining technology: Our machining workshop is seperated from forging workshop. And we have professional machining engineer to ensure the quality.