Forged Aluminum Motorcycle Footpegs
Aluminum forging
is perfect for applications where performance and safety are critical but a lighter-weight metal is needed for speed or energy efficiency. When performance and strength are important factors for motorcycle footpegs, aluminum forging is the way to go.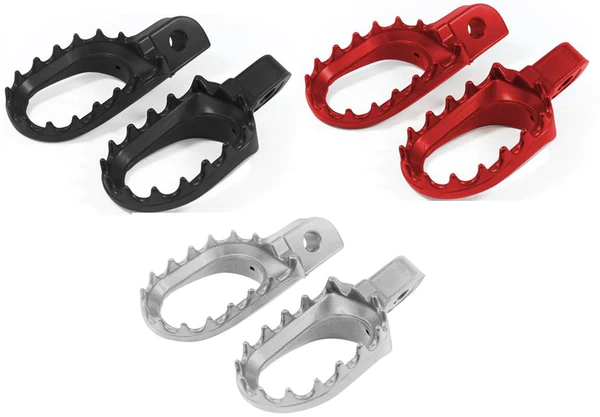 To withstand the harsh conditions of a challenging environment, structures must be strong, durable, and lightweight. Forged aluminum has a lower density than forged steel, which makes it an ideal solution for motorcycle footpegs.
Material: 7075-T6 Forged Aluminum Alloy
Forged 7075 aluminum alloy
typically consists of 90.0% Al, 5.6% Zn, 2.5% Mg, 0.23% Cr, and 1.6% Cu. However, these figures may vary nominally due to manufacturing factors. This alloy has a density of 2.81 g/cm3 (0.102 lb/in³), which is lighter than other metals.
Because of its strength and intense nature, 7075 aluminum alloy is the most demanded and valuable in forging footpegs. The copper content of 7075 aluminum increases its susceptibility to corrosion, but it is worthy to achieve a strong-yet-workable material.
To further improve the strength and durability, 7075 forged aluminum motorcycle footpegs should be further heat treated. Under high temperature (300-500 ºC), heat treatment restructures the crystals of footpegs and offers better mechanical properties.
There are several methods of heat treating 7075 aluminum, for aluminum motorcycle footpegs, we will highlight T6 tempered 7075 aluminum alloy (7075-T6). 7075-T6 is a common temper for forged aluminum footpegs.
Surface Finish: Anodized Finish
Anodized aluminum increases the durability of forged aluminum products by applying an oxidation layer to them. Oxidation usually creates a corrosion or rust layer in iron or carbon steel, but in aluminum, oxidation improves the properties. The oxidized layer is hard and has been part of forged aluminum parts, bringing plenty of benefits .
Benefits of Anodizing for Forged Aluminum Footpegs
Aluminum anodizing enhances the advantageous characteristics of aluminum footpegs in many ways:
Finishing: The anodizing process creates a more aesthetically pleasing finish, with either a clear or colourized appearance.
Durability: Anodizing also increases durability, as the process adds an extra layer of protection to anodized aluminum footpegs. This makes them more resistant to wear when working.
Corrosion resistance: During this process, a thick outer layer is created with appropriate sealing, which improves the corrosion resistance of forged aluminum footpegs and prevents further oxidation.
Strength: The anodized aluminum surface is harder than pure aluminum, second only to diamonds with respect to its hard crystalline structure.
Lasting Color: Adding a colored coating to anodized aluminum footpegs looks excellent because it gains more adhesive and pore properties during the process. The resulting anodic film coating allows the most effective coloring processes.


Contact CFS Forge
When looking for the best-forged aluminium footpegs, you can rely on CFS Forge as the ultimate solution for all your needs. With in house heat treatment, CNC machining and anodization capabilities, we can customize forged aluminum footpegs to your specifications.

CFS can also determine if your footpegs is a good candidate for a conversion to a forging. The net shape of a forging can extensively minimize machining.

We typically forge 2014, 6061 and 7075 series alloys, but have the capability to forge more unique 6000 and 7000 series materials. If you have any inquiry on forged aluminum motorcycle footpegs or other components, pls feel free to contact us!


Related Article: